Ram 3500 Pittsburg TX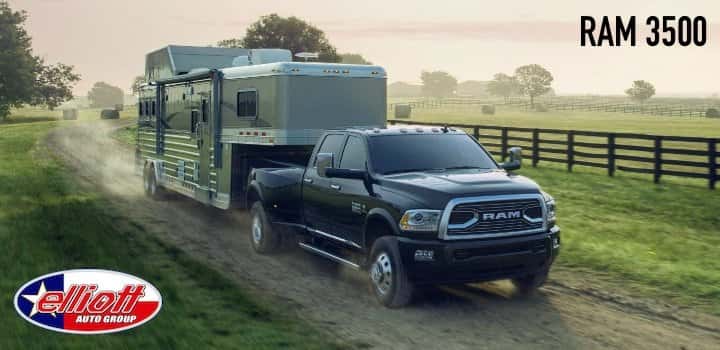 A Powerful Pickup with Unimaginable Capabilities
In the Ram 3500, you're going to be unstoppable. You're going to be able to go anywhere, tow anything, and look good while doing it.
Whether you're looking for a work truck, or just need something big enough to haul the toys around, we have a Ram 3500 at Elliott Chrysler Dodge Jeep that's going to get you excited to drive around town and country in Pittsburg TX.
We're Truck People
We've driven the back roads, hauled a seemingly impossible load, and kicked back in the truck bed to relax after a long day. At Elliott Chrysler Dodge Jeep, we know a great truck when we see one and the Ram 3500 goes above and beyond that. With a towing capacity of up to 31,210 pounds and a payload of up to 7,390, you're going to be able to tow heavier loads with more confidence than ever before. The Ram 3500 is available in multiple trims, and with different engine options as well. Our team of Ram experts would be happy to walk you through the different trim packages available for the 3500, just submit a contact form online or call to schedule a time to chat.
Convenience for our Customers
At Elliott Chrysler Dodge Jeep, we want to make the truck-buying process as convenient as possible. To do this, we've implemented a range of contact features such as our contact forms, email, phone, and of course the option to visit us in person. If you're just beginning your search, use our Car Finder form to let us know what you're looking for, and we'll contact you when something comes in that fits the bill. We even have a chat & text feature on our website for truly convenient service.
The Ram 3500 is a powerful, dependable, and rugged truck. Give us a call or stop by our Pittsburg, Texas dealership to test-drive your next vehicle. Our courteous, experienced, and professional team would be delighted to help you.