Ford F-250 Sulphur Springs TX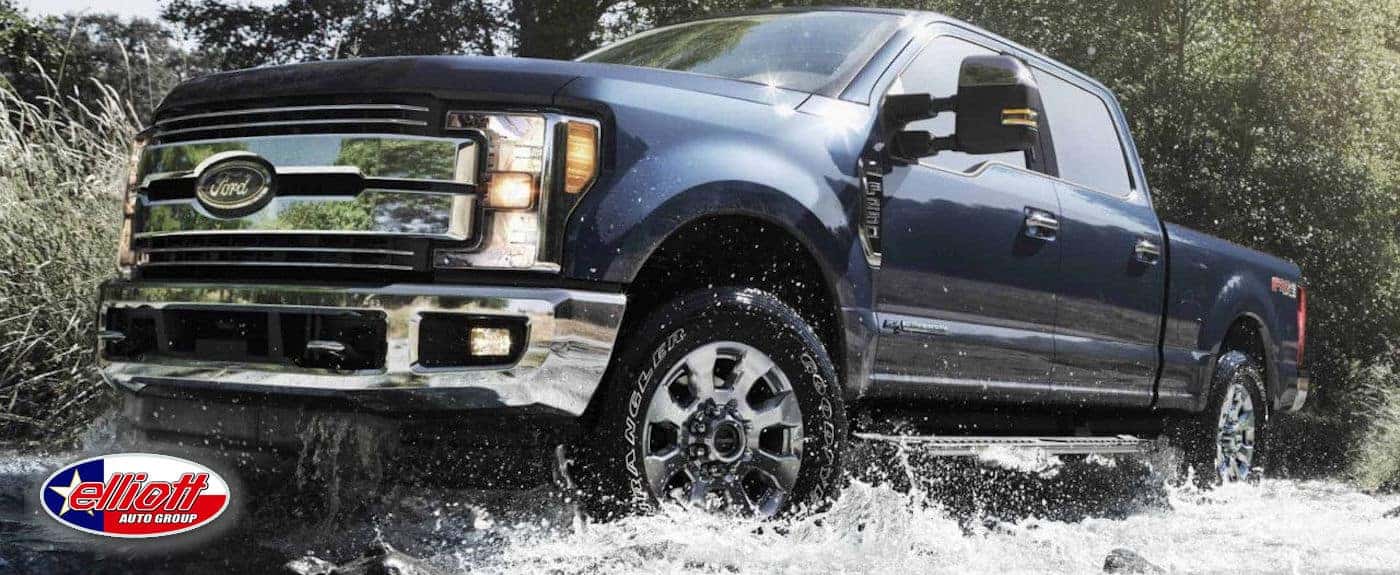 Elliott Auto Group
Get the Ford Experience with This Powerful Pick Up
The Ford F-250 is here and ready to take on your day in Sulphur Springs. It's as strong as it is tough and it can do it all for you, every day.
See the all-new Ford F-250 for yourself at the Elliot Auto Group showroom, which is conveniently located near Sulphur Springs, Texas.
Technology that Rules the Roost
The technological innovations that exist within the Ford F-250 are no joke as they only add to the supreme toughness of this heavy-duty truck. For starters, there are 7 available cameras on the Ford F-250, meaning you'll never be left with a blind spot. Happen to be working at night? Your truck bed will be illuminated with LED box lights so you can always get the job done. Speaking of your truck bed, you'll want to be sure to utilize the power tailgate release and remote locking capabilities.
The Power to Perform
The Ford F-250 is a beast of a heavy-duty pickup truck with plenty of strength to spare. Let's start by talking torque; this Ford boasts a best-in-class torque ability that will have you hauling with the big boys. Nothing else compares to the F-250 when it comes to torque, which it always delivers at peak performance. Shifting will be seamless and you'll always run efficiently even at lower speeds. The Ford TorqShift G SelectShift 6 speed automatic will deliver response driving all the time so you can get your work done the right way.
Tough Love
The Ford F-250 has gone the extra mile to provide you with the latest safety features. Enjoy adaptive cruise control with collision warning; a state of the art tire pressure monitoring system and trailer reverse guidance via cameras in your side-view mirrors. Ford knows that there's only one thing better than getting it done and that's getting it done safely.
Start Going Places in the New Ford F-250
Rev up and get on the road with the all-new Ford F250, a heavy-duty pick-up truck that will treat you like a rock star. Visit our showroom, located near our pals in the Sulphur Springs, Texas area, and you'll be sure to find exactly what you've been looking for in a truck. We have the Ford F-250 and we're dying it show it off to you. Give us a call or, better yet, stop by the dealership and see this heavy duty pick up for yourself; you won't be disappointed!
You're Going to Love it at Elliot Auto Group
Elliot Auto Group is going to treat you right and you'll notice the difference in our dealership as soon as you enter the showroom. Our team is educated and ready to answer any questions about the all-new Ford F-250 truck. We want to give you the best service you can get whether it's your first time in our dealership or your fifteenth. The Elliot Auto Group takes our job of finding you the best car seriously and we can't wait to help you find the perfect vehicle.

New Ford F-250 Sulphur Springs
Elliott has a fantastic selection of new Ford F-250 models IN STOCK. It's safe to say we have the perfect one for you. Find yours now, along with Sulphur Springs's best value.