Ford F-250 Pittsburg TX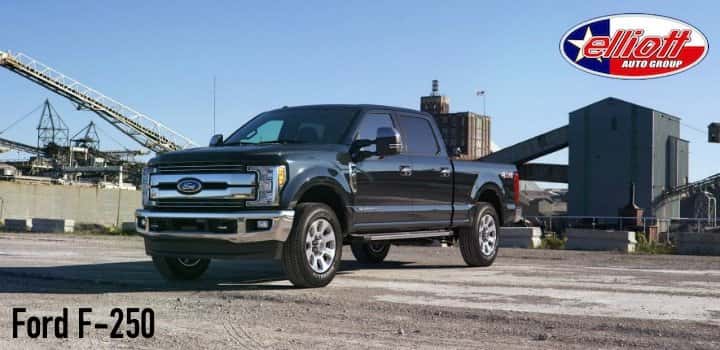 Strong & Capable
You don't buy a full-size pickup truck to cruise around town in Pittsburg, TX. You buy it to get the tough jobs done. Whether you use your Ford F-250 for work or for hauling your toys, it is not only strong, it is capable and built to last. Test drive the powerful F-250 at Elliott Auto Group today.
If it's a powerful work truck you are after to pull equipment on the farm or haul materials to the next construction site, the Ford F-250 is the truck you have been looking for. And guess what? It has plenty of power and strength leftover for the weekend to haul your fifth wheel, boat, or trailer full of jetskis and ATVs. Stop by Elliott Auto Group and see what the powerful F-250 can do for you.
Take It To Go
It doesn't matter if you are hauling your fifth wheel for a weekend getaway in the mountains, the boat to the lake, or if you are towing materials for home improvement or construction work, the Ford F-250 can handle it all and was built to perform. Ford F-250 can tow a best-in-class 21,000 lbs when properly equipped, giving you the flexibility you need to take whatever you need when you wherever you need to go. It was also rated best-in-class for gooseneck and fifth wheel towing, can you say that about the competition? You also get a best-in-class payload so you can haul up to 7,630 lbs without batting an eye with power leftover. Guess what else? You get a best-in-class GVWR of 41,800 combined weight rating. That's one impressive truck! Try it for yourself at Elliott Auto Group.
One Productive Truck
We know it is important for your truck to perform and be able to handle your towing and hauling needs. It's quite clear that the F-250 has that one down, but did you know it offers you more in the way of technology? That's right, the F-250 was built with all of your needs in mind and the SYNC 3 Infotainment System with touchscreen display is there to help. Not only is it compatible with your smartphone to help you stay connected and in the know while on the go, it offers Integrated Navigation to help you arrive at your destination with ease. You can also stream your favorite music, or opt for HD Radio or SiriusXM Satellite Radio so you always have plenty of entertainment options for hours on the road. All of these features can be performed with the sound of your voice. Let our tech experts show you how these features work.
Safe And Sound
One thing many people don't think about when they buy a truck is safety. Yes, they know it is typically safer because of its size, but did you know that the Ford F-250 was built with advanced safety features that were designed to help avoid an accident? F-250 offers 180 and 360 degree cameras that give you a very precise picture of your surroundings and help you hook up your trailer with ease. BLIS with Cross-Traffic and Trailer Tow help you determine when and if it is safe to change lanes and back out. Lane Keeping Assist helps you stay in your path, while Adaptive Cruise Control with Collision Warning and Brake Support give you more safety out of your truck.
Great Selection
Elliott Auto Group has a great selection of the popular Ford F-250 in stock for you to choose from. We offer a variety of colors, options, and models so you can be sure you will find exactly what you are looking for. You won't have to go anywhere else because not only do we have a huge inventory of the popular F-250, we have great low prices too. We aim to save you money and give you the best customer service available so you will always have a positive car buying experience when you choose us. Come down today and get your Ford F-250.