Dodge Challenger Pittsburg TX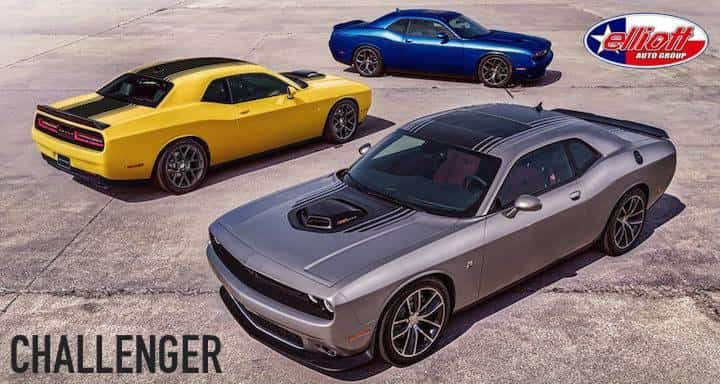 Feel That Thunderous Roar
You don't buy a Dodge Challenger for fuel economy, you buy it to feel that unadulterated power roar under the hood. Experience muscle car nostalgia with Challenger.
Earning the title of most powerful muscle car, what many don't know about the Dodge Challenger is that it is actually an appropriate daily driver. Yes it is powerful, but it is also roomy, and packed with functionality that we believe our Pittsburg, TX customers will appreciate. With several models to choose from, there is a Challenger that will meet your lifestyle and budget, while allowing you to experience muscle car nostalgia.
Raw Power
Although Challenger comes with a variety of engine options, our favorite is the one that comes in the Challenger SRT Hellcat. The Supercharged 6.2 liter HEMI SRT V8 engine gives you an impressive 707 horsepower and 650 lb-ft of torque! It also offers a class-exclusive TorqueFlite eight-speed automatic transmission, giving you ultimate control of your driving experience. You should be surprised that with that kind of raw power under the hood that the Hellcat still gets 13 mpg in the city and 21 mpg on the highway, allowing you to feel a little better about your hot rod muscle car.
Daily FUNctionality
Challenger is no doubt a powerful muscle car, but it doubles as a daily driver for some. Most people don't think of muscle cars in terms of interior room, but Challenger does. It seats up to 5 passengers comfortably with legroom for all. Challenger has even improved its seating to have more comfortable cushions and contours that hug you around every curve. Surprisingly, because Challenger has a huge engine, you would think that it takes up a lot of space, but that isn't true in this scenario. Challenger offers an enormous trunk capable of hauling all of your cargo.
Technology with Muscle
You may think of muscle cars as simplistic inside because that is what was true in the past. Challenger ups the ante with more muscular technology. Challenger offers standard Keyless Enter N' Go and standard Sport Mode to enhance your ride. Opt for available Adaptive Cruise Control and take the long road trip with ease. Do you hate adjusting your wipers in ever changing weather? Let the Rain Sensing Wipers take care of it for you. Challenger also lets you chat on the go with Bluetooth and stay on your path with available Navigation. SiriusXM Satellite Radio lets you relive your nostalgic muscle car youth with classic stations to choose from.
Come and Get It
Challenger is ready for you. Are you ready to come and get it? Elliott Chrysler Dodge Jeep has an excellent selection available, but they won't last long because let's face it, they are a hot commodity and tend to fly off of the lot, so get yours while you still can. Can't find what you are looking for on our website or at our showroom? Let us custom order your next Challenger so it is the one you have been dreaming of, or let us track one down for you so you don't have to do the heavy lifting.
Call us today and make the dream of owning a Challenger your reality today.